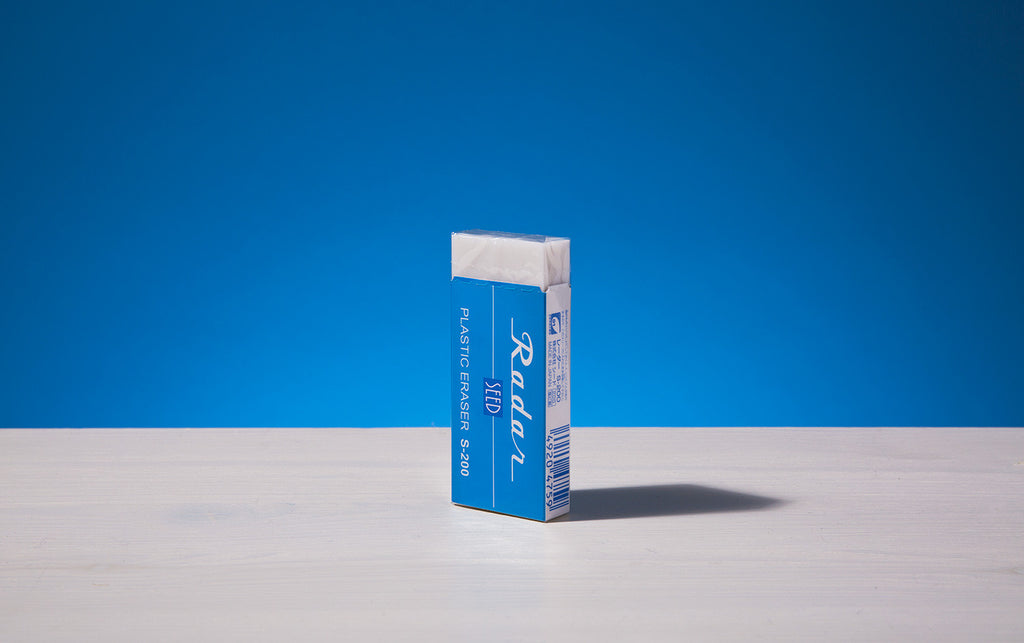 Blue Radar Eraser
£2.00
After WWI caused the usual importation to Japan of German stationery goods to cease, the Japanese industry, then growing rapidly, begun production of goods such as pencils and erasers for its quick growing domestic market due to the recently introduced compulsory eduction reform by the Meiji government in 1900.
Established in Osaka in 1915, Seed Ltd, then called Miki Yasushi-saku rubber manufacturing plant corporation was among the very first companies to manufacture Japanese erasers. Noticing that the fluctuating price and quality of natural rubber impacted their finished product, the company begun developing erasers made of soft vinyl chloride - first patented and by Seed in 1955 ahead of all other manufacturers.
A major advantage of plastic erasers was that these did not age and dry out as natural rubber ones do. The former did nevertheless continue to dominate the market regardless and plastic erasers only really came to be used on mass in the late 60s.
In 1968 Seed released its first and best selling eraser the "Radar" here presented. Its packaging remains nearly entirely unchanged. Next year it will celebrate its 40th birthday.
Recommended for clean, soft and what we believe to be the best performing eraser out there. 
Size guide:
Medium: 55 x 21 x 12 mm