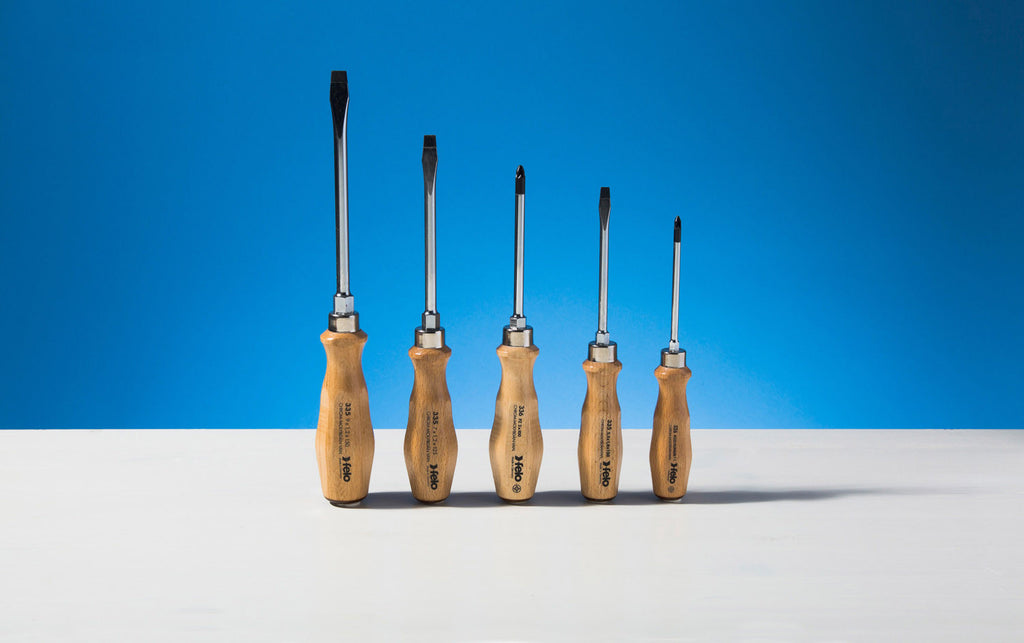 5 Piece wood handled screwdriver set with leather tips.
£29.00
5 Piece Wood handled Screwdriver set with leather tips.
Ergonomic handle made of hard beechwood make for a comfortable high torque grip.
Full length blade runs the full length of the handle for longer life.
The leather end cap protects against splintering allowing impact at the end of the handle.
Forged hexagon bolster can be used with a wrench to deliver extra torque to the tip.
Blades manufactured from chrome-molybdenum-vanadium steel ensure high strength and durability.
Chrome-plated blade with black tip give a precision fit to screw heads.
Anti-roll handle design.
15 year guarantee.
Produced by Felo of Germany who have commitment to fine, traditional hand tools.
Set includes 2 x PZ/PH Screwdrivers, 3 x Flat head Screwdrivers:
PZ/PH Head 2 x 100cm blade, 3.5 x 3.5 x 21cm including handle
PZ/PH Head 1 x 80cm blade, 2.8 x 2.8 x 18cm including handle
Flat Head 9 x 1.2 x 150cm blade, 4 x 4 x 26.5cm including handle
Flat Head 7 x 1.2 x 125cm blade, 3.5 x 3.5 x 23cm including handle
Flat Head 5.5 x 1.2 x 100cm blade, 3 x 3 x 19.8cm including handle

Presented in a open fronted printed card box.
30 x 14.5 x 4cm

Available with either PZ or PH screw driver heads.
Related Products